SurbitonPowerflushing, Chemical Flush & Central Heating Cleaning
A noisy boiler, cold spots on your radiators, very high fuel bills, and dirty water when bleeding your radiators are signs that your system has a build-up of dirt, sludge, and debris. There are different central heating cleaning options available, and our experienced boiler engineers can complete them all:
Power flushing: Power flushing is the most effective and efficient cleansing of a central heating system. It uses a specialised machine to pump water and chemicals at high velocity through your pipes, radiators, and boiler at high pressure to clear blockages and clean your central heating system.
Chemical flushing: A chemical flush is a more basic version of a power flush and does not require high pressure. It uses chemicals delivered through the central heating system using a mixture of normal water flow and gravity. After a time, the system flushes to remove rust, debris, and dirt.
Magnacleanse: This boiler cleaning service is designed to maintain and protect your system from the effects of the build-up of iron oxide. It cleanses the system, and then a MagnaClean filter is installed to provide ongoing protection from radiator sludge and rust deposits.
We are a team of boiler and plumbing specialists and can provide help and assistance at any time. We provide boiler installations, boiler repairs, and boiler servicing. We also offer boiler care plans so that you can spread the costs of your boiler services over time.
For more details, please call us now on 0333 050 6802.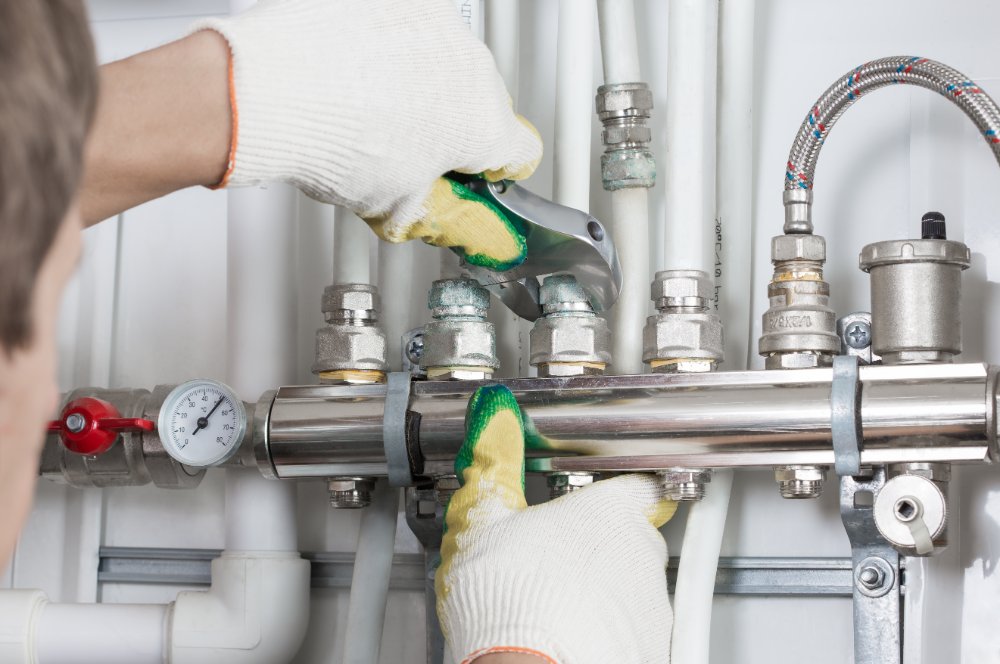 Cold spots on your radiator in Berrylands? Book our central heating cleaning
You may be wondering about what happens during a central heating power flush in Berrylands, Surbiton, or Tolworth. This is a very effective cleansing operation that loosens and removes harmful corrosion. It will improve radiator performance and heat output.
Symptoms that indicate this process could be beneficial include:
A heating system that is slow to warm up
Cold spots at the bottom or the top of your radiator
Noisy or banging noises coming from your radiator
Radiators need to be bled frequently
Dark and dirty water coming from your radiators when they are bled
Boiler breaking down or needing to be restarted regularly
Do you require fast KT6 radiator sludge removal?
Surrey Gas carries out both domestic and commercial power flushing in Surbiton. Our central heating cleaning is available in all commercial premises, including offices, hotels, schools, hospitals, sports centres, and other locations.
We can carry out a detailed survey to assess your system so that we can recommend remedial treatment. All power flushing treatments will ensure the even distribution of heat throughout the building and prolong the life of your central heating system. It will improve energy saving, reduce bills, and extend the life of your heating system.
Can a power flush damage my central heating system?
No power flushing will not cause damage to your system.
How often should my system be power flushed?
This will depend on the system, but typically systems will benefit from being cleaned every ten years.
Who should carry out power flushing?
It is important that power flushing is carried out by a Gas Safe engineer. You can have confidence that we have the right skills and knowledge to undertake this specialist work.
Surbiton boiler servicing and boiler care plans
Our Gas Safe engineers offer boiler and plumbing services, including boiler maintenance. Regular boiler servicing will ensure that you get the most out of your central heating system and that it runs at maximum efficiency. This will save you money on your fuel bills and prolong the lifespan of your heating system.
Faulty boilers can cause fatal monoxide poisoning, and our servicing can give you peace of mind that your system is safe. Spread the cost with our boiler care plans.
For power flushing enquiries and questions about cleaning a dirty central heating system in Surbiton, contact us
We welcome all power flushing enquiries in Surbiton. Please call 0333 050 6802 or email hello@surrey-gas.com