Sutton Gas Safe engineers for boiler & central heating
Our comprehensive range of services includes:
Boiler installations
Boiler servicing
Plumbing services
Plumbing repairs
Power flushing
We are accredited by both Worcester Bosch and Valliant. This means that we meet the manufacturers' high standards. As a result, you may be entitled to extra benefits, including extended guarantees. In addition, we offer comprehensive boiler care plans so you can spread the cost of boiler services.
Sutton offers a great balance of suburban and countryside living. Many singles, couples, and families live in the area and, rather than moving on, choose to improve their properties. One way of doing this is by ensuring any central heating system is efficient and working optimally.
To request a quote for any of our boiler services, please call on 0333 050 6802.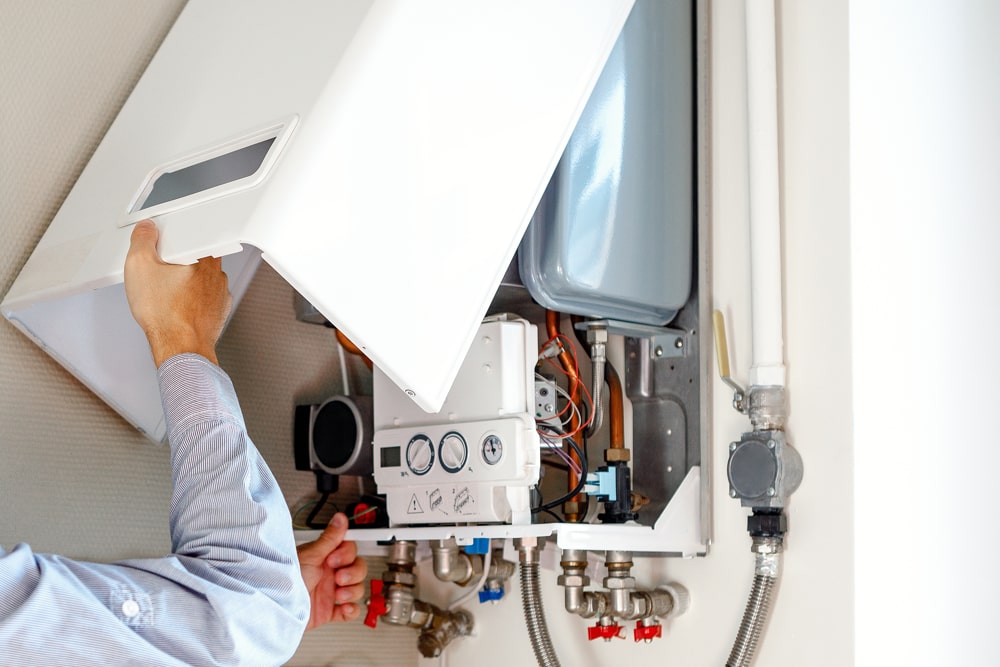 Five top reasons for boiler replacement and new boilers near Belmont
Are you thinking about a boiler replacement in Belmont or Sutton? Many people will not give their boiler a second thought. However, here are the top reasons to consider replacing your boiler.
More energy efficient: All new boilers contain condensing technology which makes them more than 90 per cent energy efficient. Older boilers will sometimes convert as little as 55 per cent of the energy they use into fuel, so this can make a massive difference to your fuel costs.
More environmentally friendly: Your energy bills will be reduced, lowering your carbon footprint, so your new boiler will be better for the environment.
Lifestyle improvements: Any new boiler will be more efficient and allow you to control your property's temperature more accurately. This will lead to great comfort and relaxation.
Improved safety: Modern boilers are safer than older models and will always meet the latest safety standards and building regulations. Older boilers may expose you to fire hazards and carbon monoxide poisoning.
Add values: Any new boiler will add value to your property. For example, if you are putting your property on the market to sell or rent out, it will make it more appealing.
All boiler models installed by Gas Safe engineers in Sutton, SM1
Contact our team of engineers if you are looking for the safe and efficient installation of a new boiler in Sutton. Good boilers should last for around 10 to 15 years, and we can advise you.
Common signs that it might be time for a new boiler include:
Your boiler is leaking
Your boiler is making strange noises
Your boiler is regularly overheating
Your boiler keeps breaking down
You are having ongoing issues with your boiler pressure
Read our blog: When should you purchase a new boiler?
When considering replacing your boiler, there can be various things to consider, including the location of your new boiler, the type of boiler (we install combi, system, and regular boilers), and the boiler brand. Our expert heating engineers will be able to advise you. Check out some examples of recent boiler installations in Surrey.
Accredited boiler engineers for Worcester-Bosch, Valliant & more
Our Gas Safe engineers can work with boilers of all models and makes. We are accredited Worcester Bosch and Valliant installers and can therefore offer our customers exclusive benefits. Our engineers can supply, install, maintain, and repair boilers from all leading brands.
Why choose our Sutton central heating engineers?
We understand that investing in a new boiler is expensive, so here are just a few reasons to choose our central heating engineers in Sutton.
Customer-focused: We provide a professional, efficient, and friendly service, where we always put our customers first. Our engineers have more than 16 years of experience in the industry, and we can always exceed our customers' expectations.
Gas Safe-registered: We are listed on the Gas Safe Register, which replaced CORGI in 2009. This means that our engineers will always meet the required standard, and you can feel confident that you are in safe hands.
Flexible timings: We offer a flexible service, where we can complete boiler installations, boiler servicing, boiler repairs, and plumbing services around your schedule. We always aim to make the process as smooth as possible for our customers.
Competitive prices: All our boiler services are offered at highly competitive prices. We can provide free quotes at any time, and these are always transparent, with no hidden costs.
For boiler repairs or boiler quotes in Sutton, call our local boiler company